The priority for a shipper is to ensure parcels reach customers on time. Moreover, customers also expect the same from their shippers. But, if the parcel delivery is late, there are chances that the customers may not do business with the shipper again.
As a result, shippers loose out on business and money. Further, not all shippers request a refund from parcel couriers in time. UPS and FedEx have Guaranteed Service Refunds (GSR) for service failures. This article explores UPS GSR for late package deliveries. In addition, we discuss the UPS services entitled for GSR.
UPS Guaranteed Service Refund for late package deliveries
As discussed in our earlier blogs, UPS guarantees on-time delivery of packages to 50 US states. In addition, UPS guarantees a refund for each shipment delayed. However, UPS does not give a refund due to certain conditions or restrictions mentioned on the UPS website. UPS Guaranteed Service Refund does not apply to packages with a Large Package Surcharge or Additional Handling charges. In addition, shipments made around the holidays are not eligible for a UPS refund.
What are the UPS services eligible for UPS Guaranteed Service Refund?
UPS Service Guarantee has updated rules for 2022. UPS had to suspend its money-back guarantee in 2020. But now, some services are reinstated. From April 5, 2021, UPS Service Guarantee is offered for the following services:
This service guarantees early morning delivery for time-critical shipments. The delivery of packages is by 8 AM to major US cities.
It is for time-sensitive shipments with guaranteed overnight service. Further, there is an extension in the delivery time of parcels to residential locations from 10:30 AM to 12:00 PM.
It is an overnight service that is less costly than UPS Next Day Air®. In addition, the delivery time is till 11:59 PM on the guaranteed day of delivery.
UPS Worldwide Express NA1®
This service provides guaranteed next-business-day delivery to businesses in the US. Also, it is a fast shipping service to Canada, Mexico, Central, and South America.
UPS Worldwide Express Plus®
An international service that sends parcels early in the business day.
It is an international service that guarantees deliveries to 140 countries.
UPS Worldwide Express Saver
It is an economical international service that ensures package delivery during the day.
An international service that guarantees delivery of packages to 220 countries by the end of the business day.
UPS Worldwide Express Freight® Midday
It is an international freight service to 35 countries with guaranteed delivery by 12:00 PM or 2:00 PM.
UPS Worldwide Express Freight®
International, guaranteed service for urgent, high-value freight of more than 150 pounds.
The above UPS services are for time-sensitive shipments. So, if there is a delay even by a minute, shippers are entitled to a refund from UPS. Shipping businesses need to identify each delayed shipment. Further, shippers have to request a refund from UPS.
How is a UPS GSR request made?
The shipper can request a refund in 2 ways
Calling 1-800-PICK-UPS (1-800-742-5877) and saying "Refund" or
Logging into the UPS Billing Center.
How to file a GSR in UPS website?
Step 1: Log in to UPS Billing center and navigate to "View & Pay Bill" page.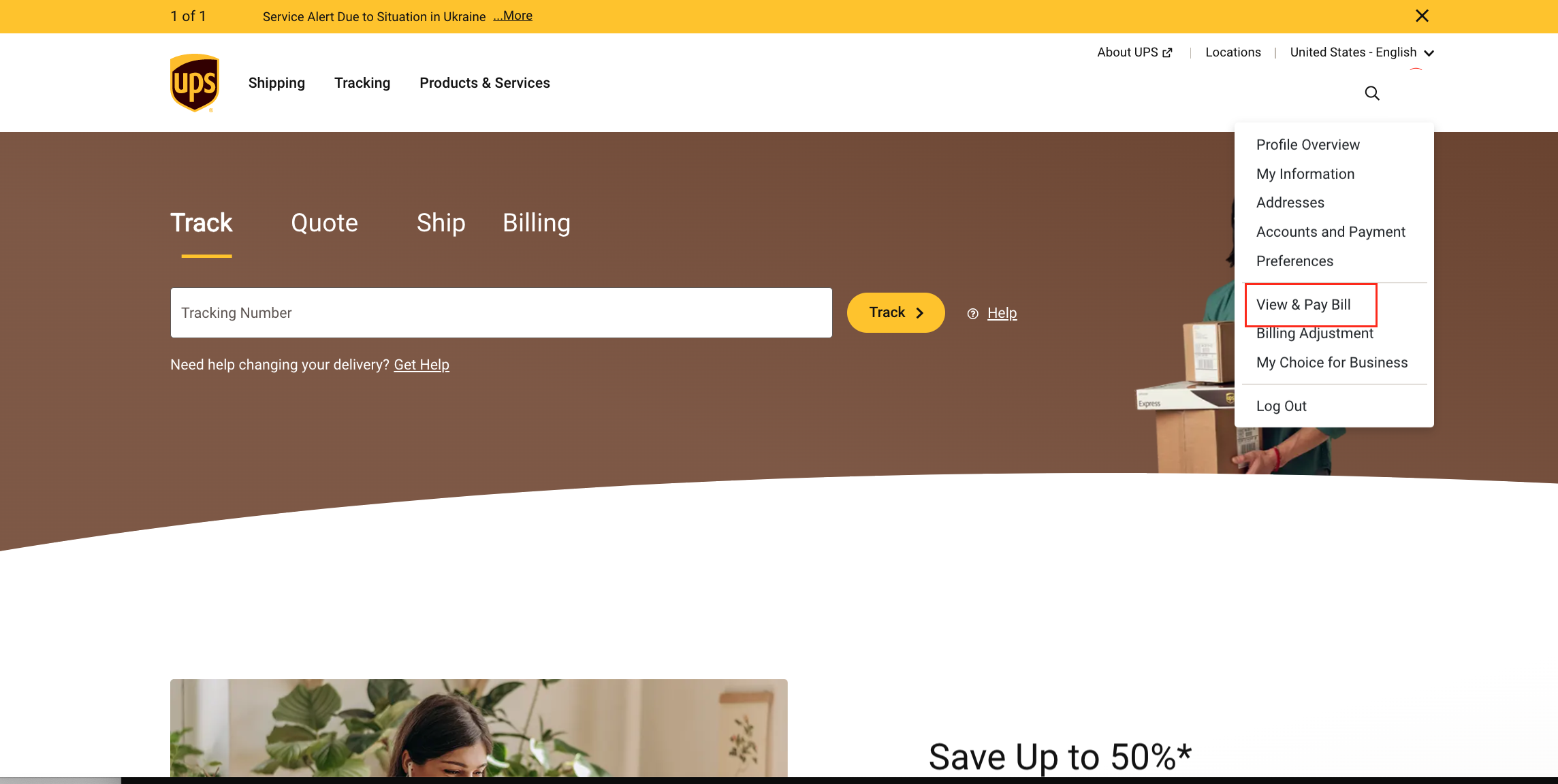 Step 2: UPS has two options to file for a GSR refund- "My Invoices" and "Dispute History & Refunds".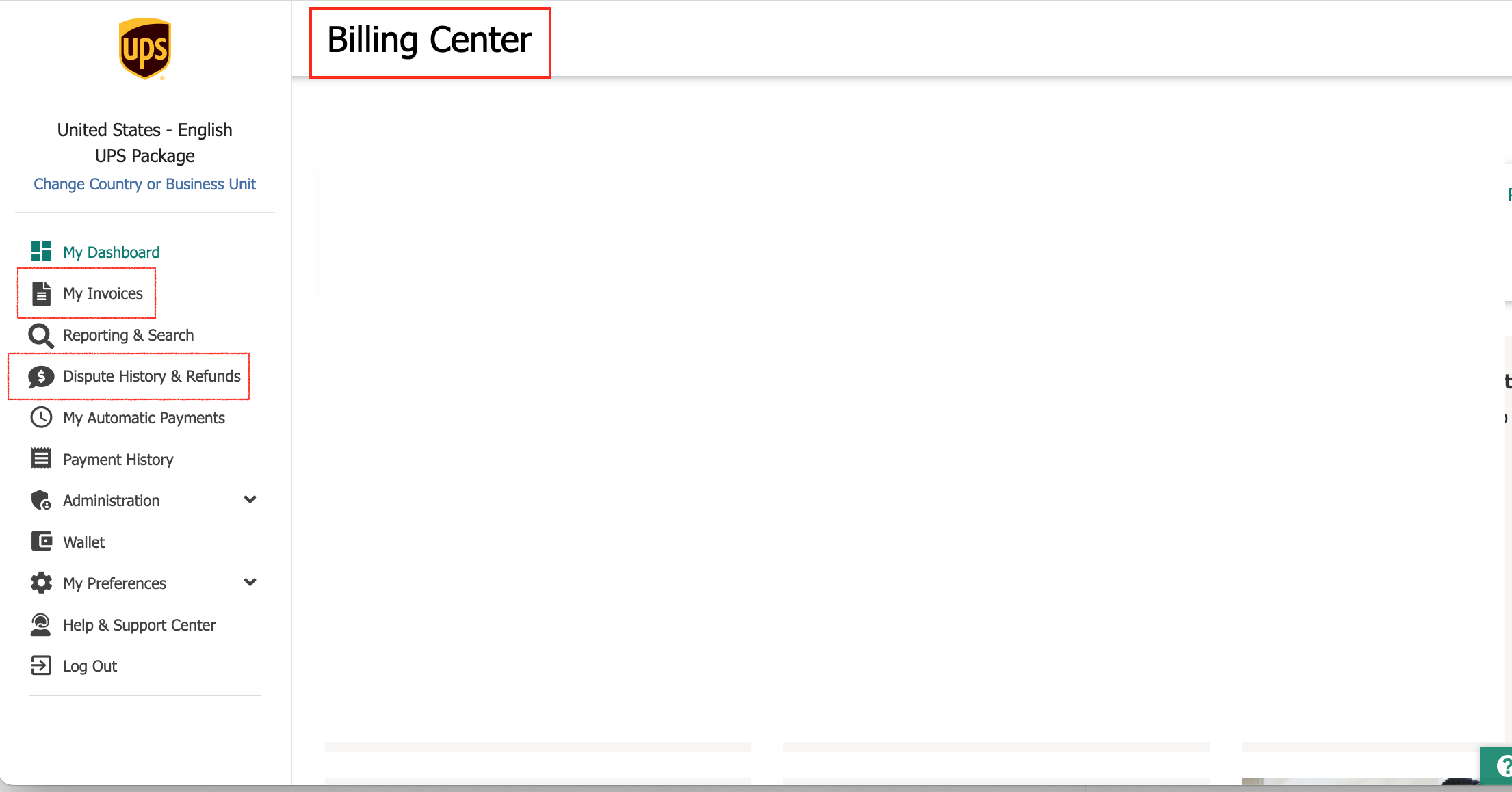 Step 3: First option – Select "My Invoices" and select the invoice number and its tracking number for which the refund has to be claimed. Select Dispute option for the tracking number. Select the dispute reason and dispute level.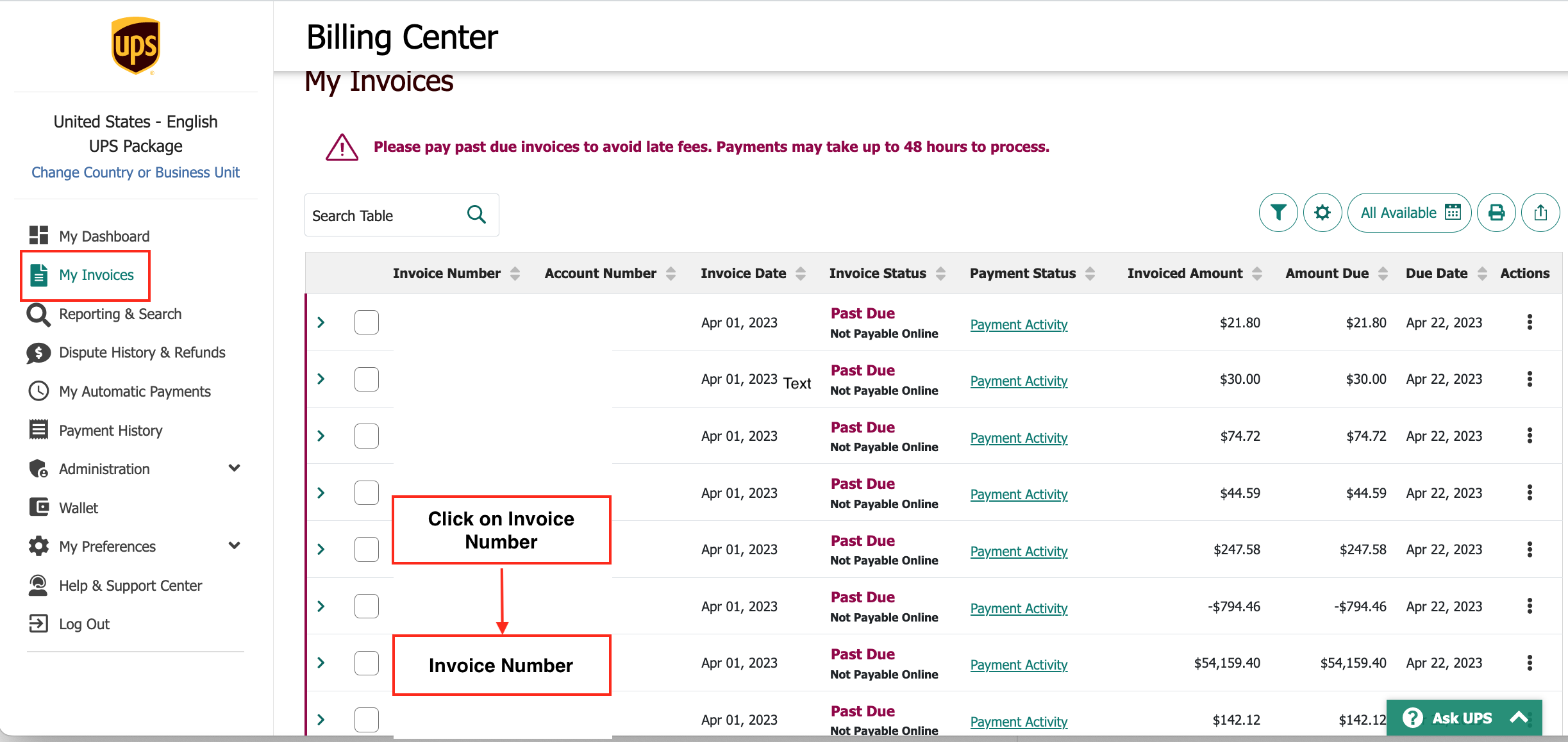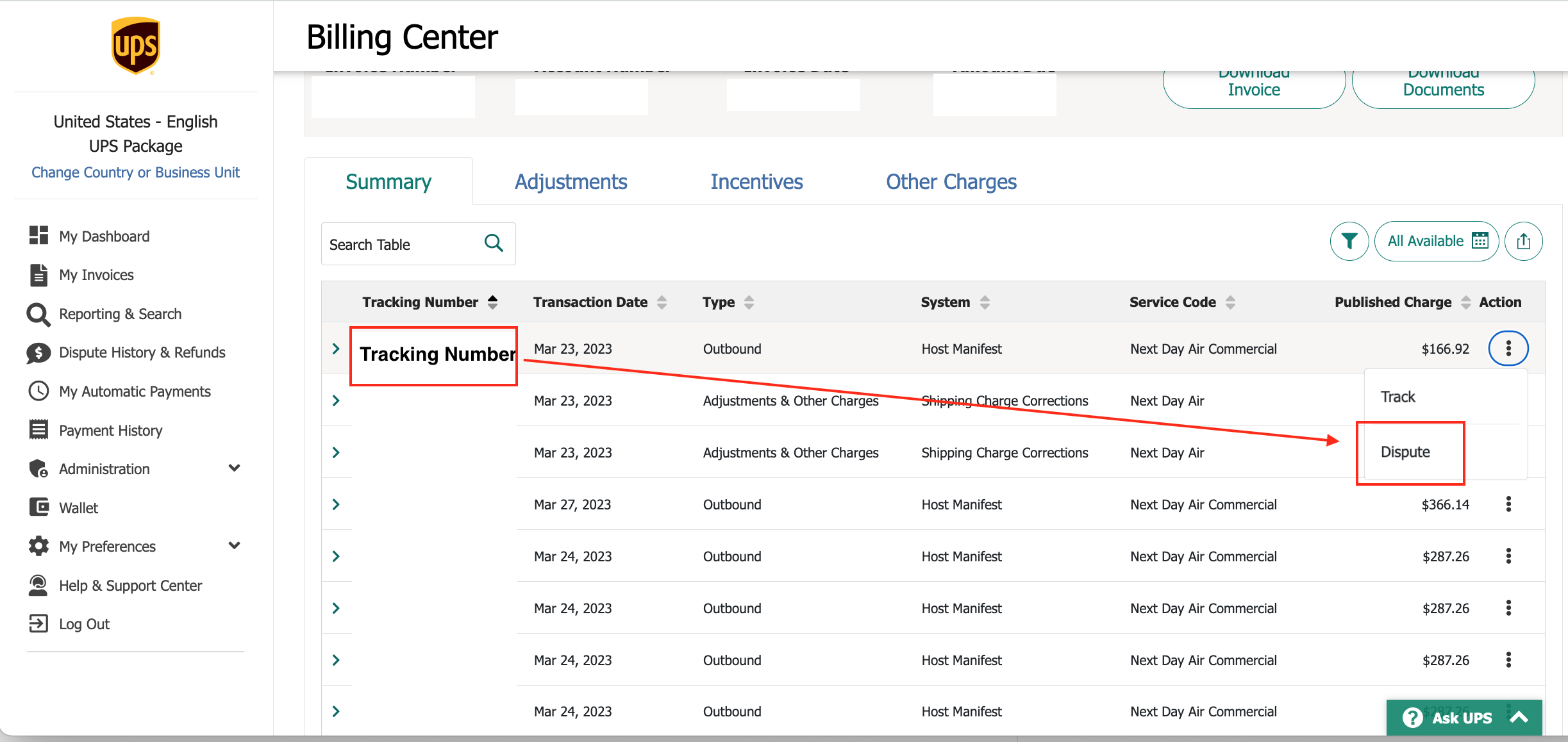 Another option is through "Dispute History & Refunds". Select "Request Service Refund" in "Dispute History & Refunds" page. Select the Dispute ID and enter the tracking number.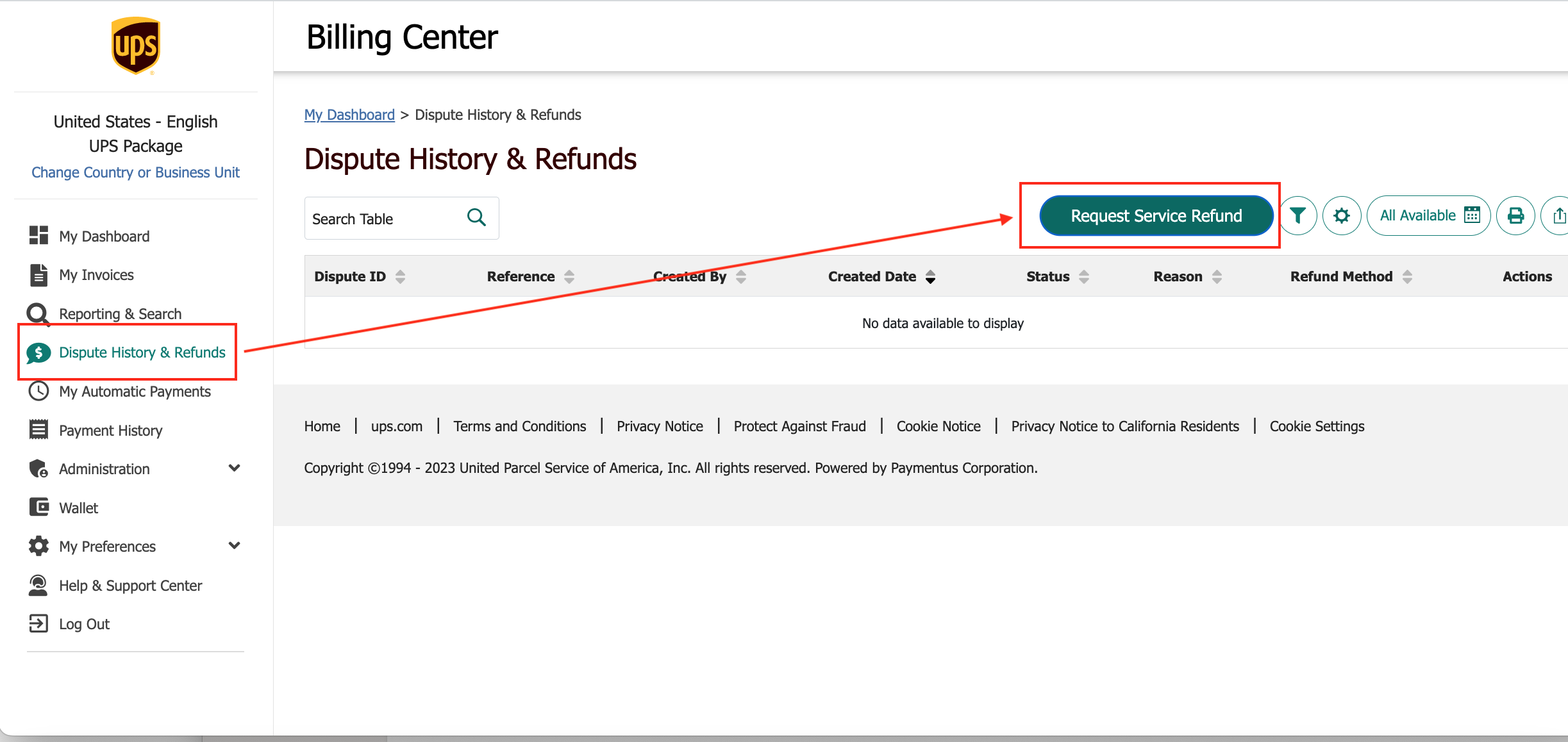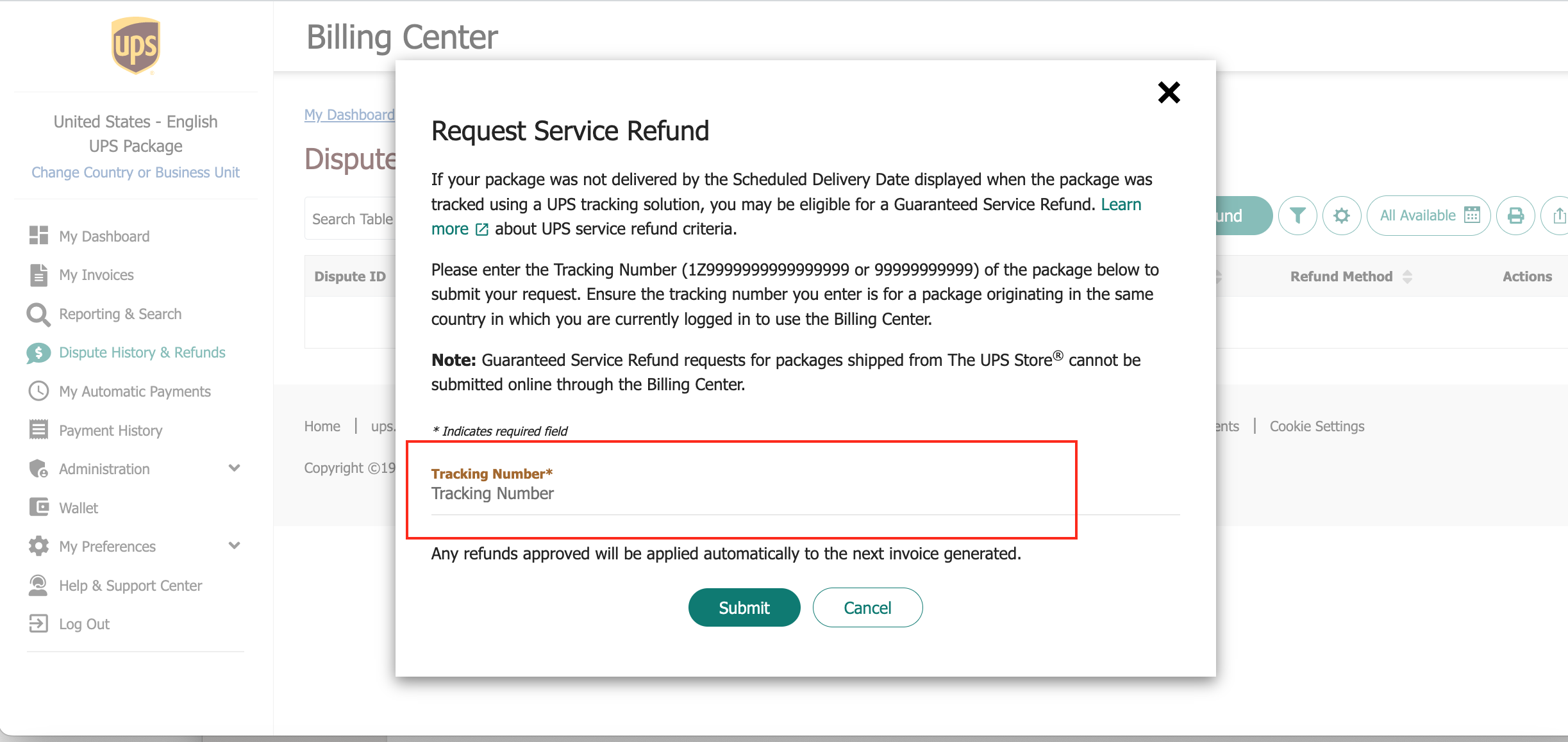 The UPS Billing Center is accessible to shippers having an account with UPS. The request will be within fifteen days of the originally scheduled delivery date.
What happens after the submission of a UPS GSR request?
After approval of the refund request, UPS will credit or refund the transportation charges to the shipper. The credit is visible in a section in later UPS invoices. However, transportation charges will not include all other surcharges. UPS Service refunds information is on the UPS Tracking Details page.
Recovering UPS GSR made easy by Audintel
Imagine a business having more than twenty packages shipped per day. It would be difficult for companies to keep track of each late parcel delivery. Also, each delayed parcel will have a request for a refund from UPS. Businesses will need to hire resources to do this every day, thus increasing costs. Audintel has customized dashboards and auditing techniques that help businesses in recovering money. We seamlessly track each shipment and monitor it for late delivery. Audintel requests UPS refunds for late deliveries on the client's behalf. Our team ensures that UPS Service Refunds are deposited directly in their client's accounts.
Summary
Customer satisfaction is paramount for all businesses. So, late delivery of packages is harmful to further business growth. Moreover, shippers lose money if they do not request UPS refunds for late deliveries of parcels. Audintel audits shipments and retrieves money for its clients. Learn how to save money and track refunds by contacting us or you can call us at +1 (619) 354 8539. Visit the Audintel website to know more about us.